Exeter Health Library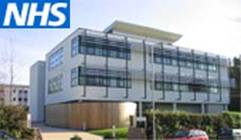 Exeter Health Library is an NHS library located at the Royal Devon and Exeter NHS Foundation Trust in Exeter.  The library is open to membership for employees of the RD&E NHS Foundation Trust, NHS Devon and Devon Partnership Trust, along with UEMS (University of Exeter Medical School) staff and students, and students on placement at the RD&E.
The Exeter Health Library website, including library catalogues and further details, can be accessed through the link below.